Shiraz Tourist Attractions
In this article from the website, Top Travel Tourism Magazine , we will talk about Shiraz Tourist Attractions.
Shiraz is a city in south-central Iran, known for its literary history and many gardens. The marble Tomb of Hafez, honoring the revered poet, sits within its own garden. To the east, the Mausoleum of Saadi houses the 13th-century writer's mosaic-tiled tomb and an underground pool. Shiraz is a gateway to Persepolis, the ruined 6th-century-B.C. capital to the northeast, with its immense gateways, columns and friezes.
Shiraz is the birthplace of the ancient Persian civilization. Blessed with a moderate climate and easy-going people, it's also the city of poets, literature, and Persian gardens. Travel back to the Persian Empire and get a dose of some serious poetry as we explore how to spend 48 hours in Shiraz.
Day 1
With so many historical and cultural sites in Shiraz, there's a lot to pack into 48 hours. Spend the first day outside the city, steeped in history, as you explore the remains of the ancient Persian Empire. Because today will be spent in the sun in a dry landscape, make sure to pack sunglasses, sunscreen, a hat, and of course plenty of water and snacks.
The capital of Persia during the Achaemenid era (circa 550–330 BCE), Pasargadae is where you'll find the Tomb of Cyrus, King of Persia, as well as the remains of the citadel of Tall-e Takht, palaces, and prison of Solomon. Despite its isolation and rather inhospitable surroundings, Pasargadae is a rewarding and imperative stop on the journey to ancient Persia.
Pasargad, Fars Province, +98 71 4334 1556
About 50 kilometers south of Pasargadae is the monumental Persepolis, capital of the Achaemenid Empire. Upon entering the majestic Gate of All Nations, tap into your imagination to be transported back in time, when delegations from foreign countries brought gifts to the king. The magnificent reliefs on the staircases and in the palaces depict everything from half-man/half-bull figures and griffins to Persian soldiers and lotus flowers.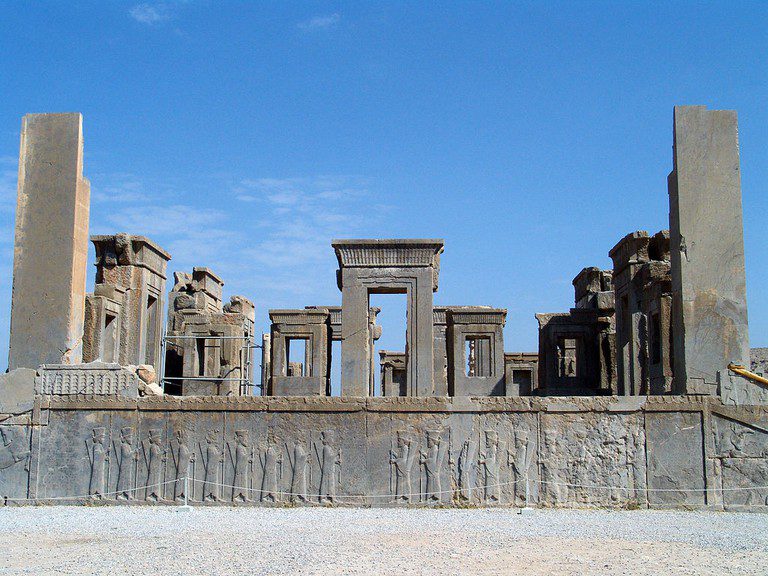 Continue your journey into the past at Naqsh-e Rostam, a necropolis of four massive tombs for the Achaemenid kings, including Darius the Great, carved into the cliffside. The Cube of Zoroaster, thought to have been a fire temple, sits in front of this tomb. Other reliefs in this area include triumphs of the Sassanid era monarchs, including the most famous one portraying the victory of Shapur I over Roman emperors. Naqsh-e Rajab, located only a few minutes away, has other similar reliefs.
Naqsh-e Rostam, Fars Province, +98 81 6720 9275
Naqsh-e Rajab, Fars Province, +98 939 273 8457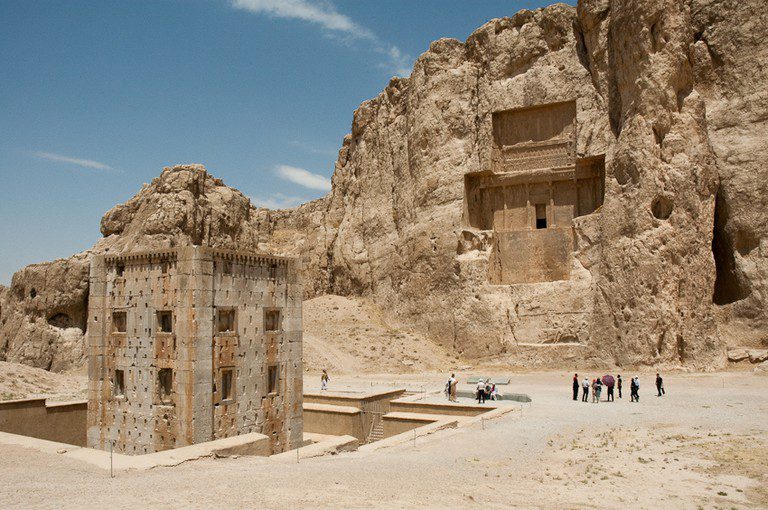 Day 2
Morning
Now that you've had your Persian history lesson, it's time to soak up some Persian culture. Everyone enjoys the beauty of sunrise, but there are few better places to take your breath away so early than Nasir ol-Molk Mosque, nicknamed the Pink Mosque. Sunlight shines through the stained-glass windows and reflects off the Persian rugs, transforming the mosque into a walk-in kaleidoscope. Each nook is more photogenic than the last. You'll love not only capturing this masterpiece but also becoming part of it.
Nasir ol-Molk Mosque, Lotf Ali Khan Zand St, Fars Province, Shiraz, +98 71 3224 1661
Once you've managed to pull yourself out of this exquisite mosque, walk northwest along Lotf Ali Khan Zand Street to the Vakil Bazaar, where you can meander through the maze of alleyways. You'll be dazzled by the rug and jewelry shops, and the scent of spices will lure you closer to the stalls. Explore the understated yet delightfully symmetrical Vakil Mosque with its colorful mosaics against neutral backdrops. Finally, visit Hammam-e Vakil, an 18th-century bathhouse with vaulted chambers, twisted columns, and painted scenes from Persian mythology.
At this point, a lunch break at the bazaar's Saray-e Mehr is in order. Try the chicken kabobs or famous dizi, a traditional stew of lamb, potatoes, and legumes cooked in a clay pot. Wash it all down with a hot glass of tea as you relax and take inventory of your bazaar purchases in this charming, traditional restaurant.
Vakil Bazaar, Saraye Moshir, Shiraz
Vakil Mosque, Shiraz, +98 71 3224 1475
Vakil Bath, Shiraz, +98 71 3224 7646
Saray-e Mehr, Vakil Bazaar, Shiraz, +98 711 222 9572
Afternoon
Get your motor running again at Arg-e Karim Khan, an 18th century citadel built by and named after the founder of the Zand Dynasty. With a lovely courtyard filled with citrus trees and a central pool, it's hard to imagine that the four surrounding towers of this fortress once served as prisons. Don't miss the tilework showing scenes from Ferdowi's epic poem, Shahnameh.
From here, head to one of the sites comprising UNESCO's collective listing of 'Persian Gardens,' the aptly named Eram Garden (Persian for paradise). Surrounding a spectacular three-story pavilion with colorful mosaics, this botanical garden is replete with towering cypress and palm trees as well as red roses and streaming water.
Karim Khan Citadel, Shiraz, +98 71 3224 7648
Eram Garden, Eram Blvd, Shiraz, +98 71 3227 2538
Evening
End your stay in Shiraz with an evening of two of Iran's most beloved poets, Hafez and Sa'adi. Great lovers of poetry, Iranians from all walks of life can recite verses from these poets from memory. The Tomb of Hafez sits in a beautiful garden and is full of tourists and locals who come to pay their respects. Grab a fal-e Hafez and contemplate the play of words to see what fortunes the great poet has in store for you.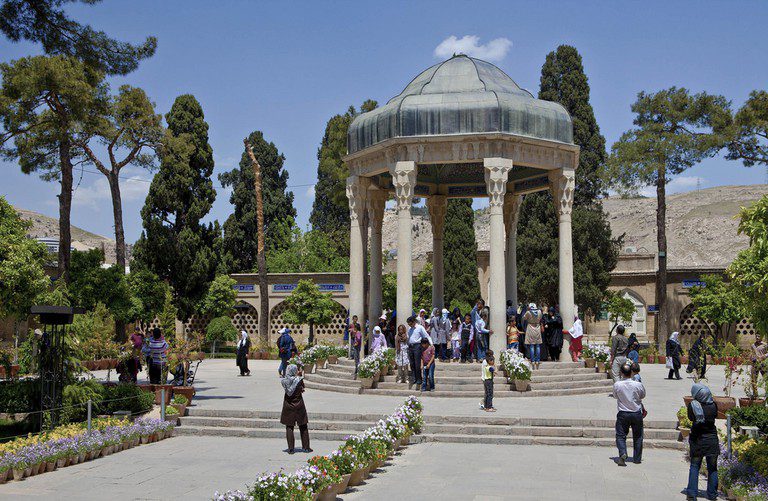 The Tomb of Sa'adi, featured on the 100,000 Iranian rial note, is less crowded in the evening, allowing for a more personal experience. His simple yet profound lyrics offer proof of his legacy, and his most famous works, Golestan and Bustan, emphasize unity in mankind. It makes sense that his poem Bani Adam, Children of Adam, is inscribed at the entrance of the United Nations in New York.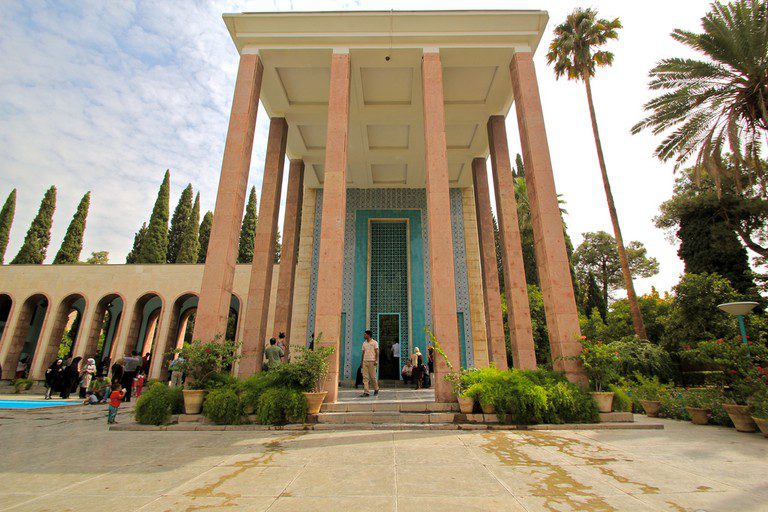 Tomb of Hafez, Hafezieh St, Shiraz
Tomb of Sa'adi, Boostan Blvd, Shiraz
---
   تبلیغات    
مطالب مرتبط